Your Brucklyn business apartment
Perfect location in the best of company
The Brucklyn business apartments are located near the new and innovative Siemens Campus, between Friedrich Alexander University (FAU) and the popular Herzo Base, where Adidas and Puma have their headquarters. You benefit from excellent transport connections, convenient shopping at the nearby Erlangen Arcaden shopping centre, and fantastic neighbourhoods. The annual Bergkirchweih festival and the flourishing historical old town are only a stone's throw away.
San-Carlos-Straße 4
91058 Erlangen
Deutschland
Weekdays:
08:00 – 17:00
Flexible by arrangement
Distances to main destinations
Erlangen central railway station:
2 km
Nuremberg Airport:
12 km
Convention centre:
22 km
Erlangen Bruck S-Bahn station:
500 m
Bus:
200 m
Nuremberg Airport:
12 km
Erlangen-Nuremberg-Fürth metropolitan area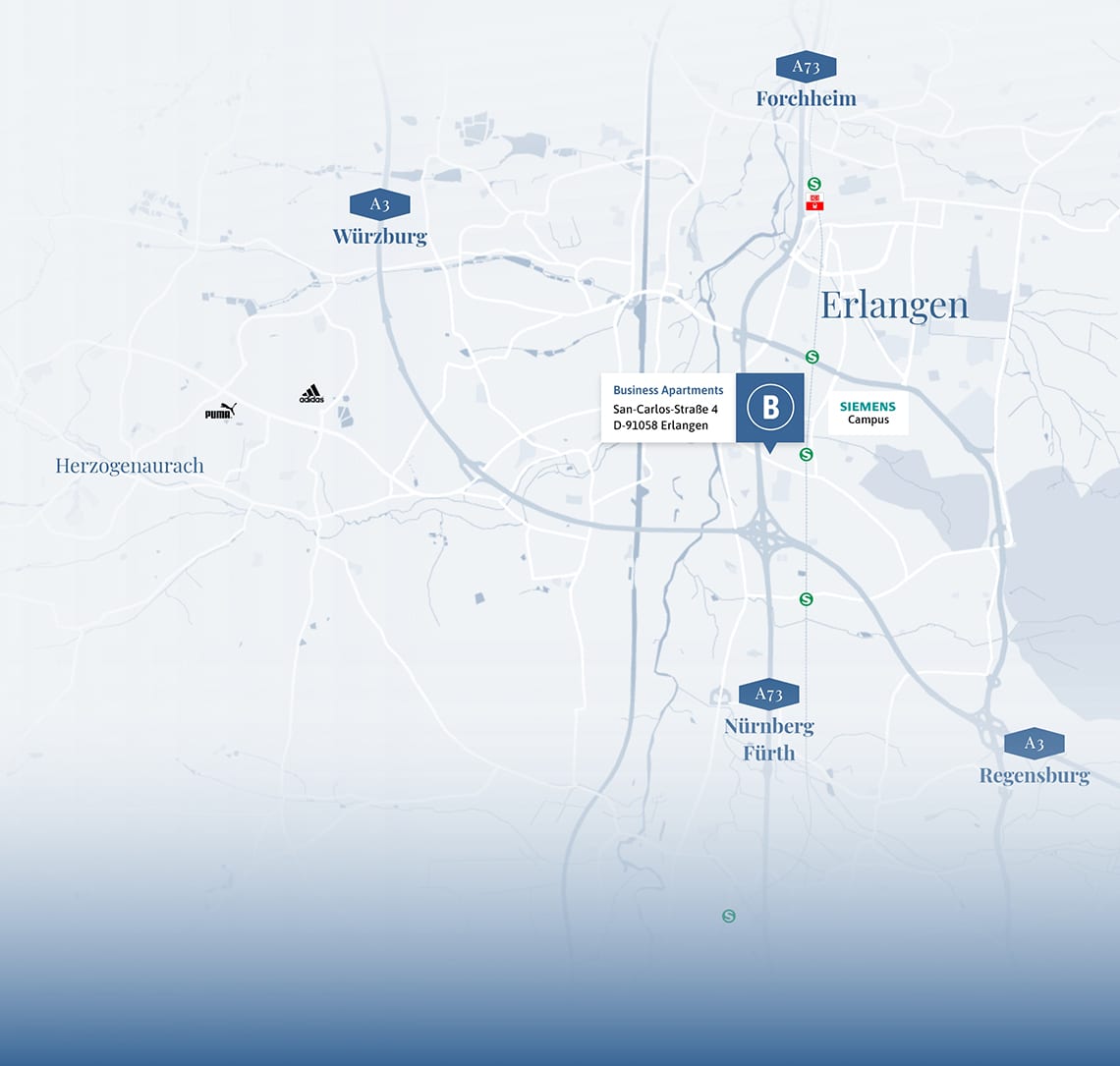 Exclusive bathroom with many extras
All you need for your work are the essentials. Your business apartment contains everyday necessities, such as a hairdryer and hygiene products. A set of three high-quality towels is also included, as well as cleaning and towel changes during stays for multiple nights.
Every business apartment has a modern, well-equipped kitchenette and fold-out dining table
As well as a compact oven with an integrated microwave, ceramic hob, refrigerator and a selection of cooking utensils, such as pots, pans, cutlery and tableware, you can also enjoy a Nespresso coffee machine and dishwasher.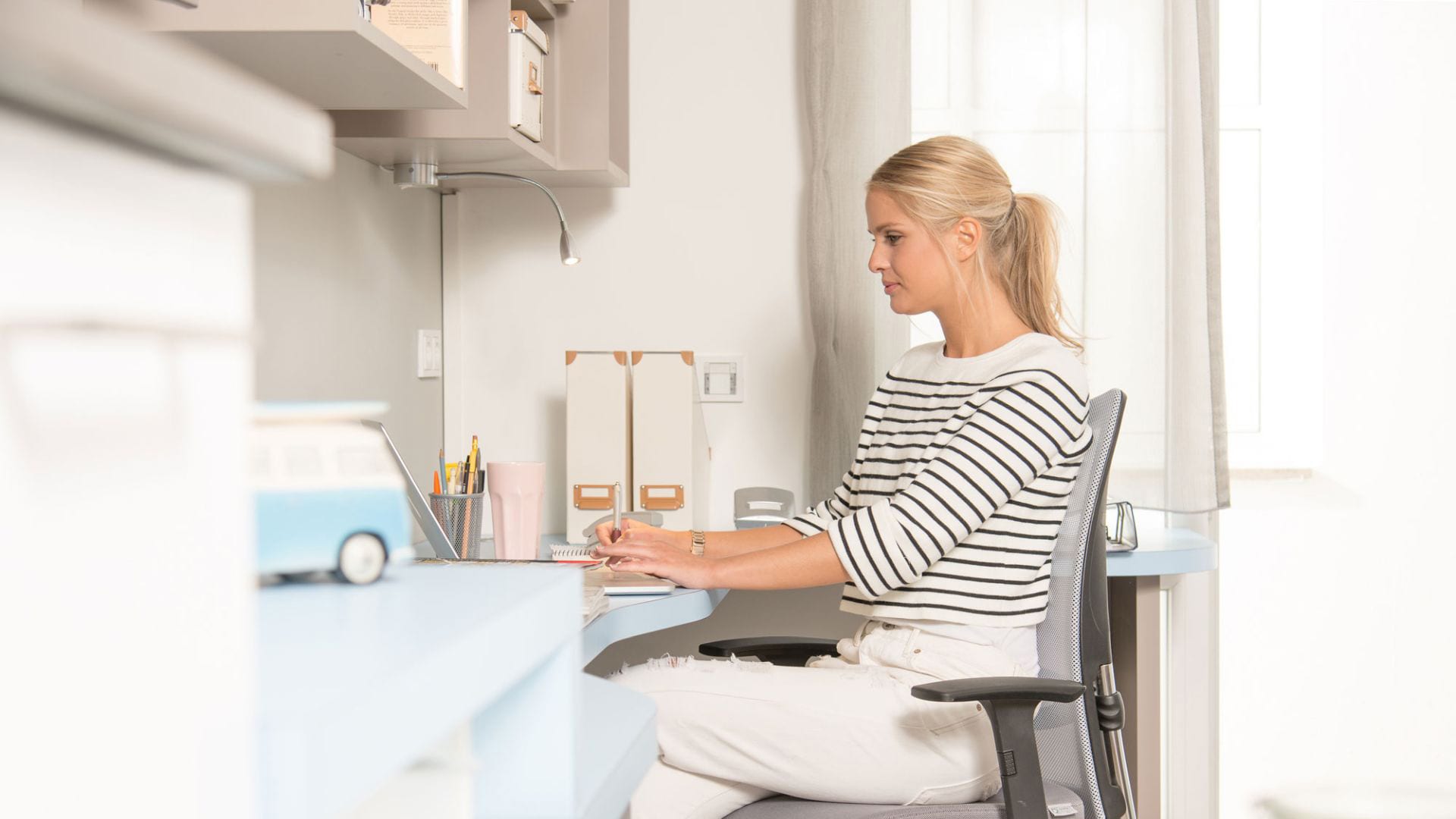 Your business apartment contains all the everyday utensils, such as tableware and cooking equipment. There is also no need to worry about Internet: high-speed Internet and Wi-Fi are available around the clock. This sets our Brucklyn business apartments apart and makes your stay a little easier.
Deep-cleaned, disinfected and sealed until your arrival
We provide careful, long-lasting protection against bacteria and viruses with an air disinfectant, combined with a cool mist humidifier. This is a safe, non-toxic and environmentally friendly way of protecting our guests. Deep-cleaned and disinfected apartments are given a hygiene seal, and are not entered again until you arrive.
Individual, transparent andimmediately bookable
*Price available from 30 nights (incl. VAT)
Live and work in one place
Brucklyn business apartments are within walking distance of the Brucklyn coworking space. Both buildings are part of the Brucklyn quarter.
The Brucklyn quarter represents a unique new work and lifestyle concept, which was developed in the Erlangen-Bruck district for people who hold themselves to high standards in their life, work and living. The quarter features inspiring, premium-quality, well-designed living, working and community areas, a high level of accompanying services to enjoy in your private life or on the job, a high degree of connection with other people and short distances, as well as flexible mobility. Not least, it follows an earnest sustainability concept.
Erlangen considers itself the high-tech capital of northern Bavaria. With Siemens, the university, numerous software firms and public and private research institutions, there is a high concentration of technical expertise that is unique in northern Bavaria.
Erlangen's economy is inseparably intertwined with the brand Siemens. The Group generates approximately one third of its global revenue from here. Erlangen is also growing in importance in the medical and healthcare sector. Friedrich Alexander University attracts aspiring innovators, having been ranked second for innovation by Reuters. The university is a source of innovative ideas that develop into businesses and startups. What's more, the area is home to internationally renowned companies, such as Adidas, Puma, Schaeffler, Rehau and Primetals.
Individual, transparent andimmediately bookable
Do you have any questions or concerns? Let us know!
Fill out the form or give us a call.
In cooperation with AGS Group
AGS Global Solutions understand the challenges that come with expat life! With 47 years of industry experience, they offer a comprehensive range of immigration and relocation solutions across Europe and the world, tailored to your specific needs and helping you move with peace of mind.
Frequently asked questions - FAQ -